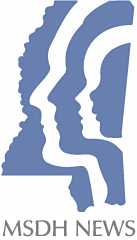 Jackson, Miss. Today the Mississippi State Department of Health (MSDH) reports three new cases of Zika virus, bringing the 2016 total to eight. The cases were in residents from Chickasaw, Hinds and Rankin counties who recently traveled to St. Thomas, Nicaragua and Guatemala.
Last week, two cases were reported from DeSoto and Madison counties, in travelers to Jamaica and Guatemala respectively. Three other travel-related cases occurred earlier this year.
So far this year four cases of West Nile virus (WNV) have been reported in Hinds, Grenada, Lamar and Rankin counties. The MSDH only reports laboratory-confirmed cases to the public. In 2015, Mississippi had 38 WNV cases and one death.
"At least 46 other U.S. states and territories have already reported travel-associated cases," said State Epidemiologist Dr. Thomas Dobbs. "Now that school is out, we know it is a popular time for mission trips and vacations to these areas. Please be especially mindful of protecting yourself from mosquitoes while you're abroad. Simple steps can make a big difference."
Zika is a mosquito-borne virus that may cause serious birth defects if contracted during pregnancy. Zika virus infection can cause a mild illness with symptoms (fever, joint pain, conjunctivitis or rash) lasting for several days to a week, but 80 percent of those infected have mild symptoms or no symptoms at all. Death is very rare. The MSDH strongly advises pregnant women not to travel to countries where Zika is actively being transmitted.
Zika has been seen in parts of Africa, Southeast Asia, and some Pacific islands for years, but has recently been reported in approximately 30 countries, mostly in the Caribbean, Central and South America. The breed of mosquito that is spreading Zika – Aedes aegypti – has not been detected in Mississippi since the early 1990s. The MSDH is currently conducting surveillance for Aedes mosquito populations in every county in the state.
In previous years, WNV has been reported from all parts of the state. All Mississippians are potentially at risk – not just the areas where cases are reported.
Symptoms of WNV infection are often mild and may include fever, headache, nausea, vomiting, a rash, muscle weakness or swollen lymph nodes. In a small number of cases, infection can result in encephalitis or meningitis, which can lead to paralysis, coma and possibly death.
The MSDH suggests the following precautions to protect yourself and your environment from mosquito-borne illnesses:
Use an EPA-registered mosquito repellent that contains DEET while you are outdoors.
Remove all sources of standing water around your home and yard to prevent mosquito breeding.
Wear loose, light-colored, long clothing to cover the arms and legs when outdoors.
Avoid areas where mosquitoes are prevalent.
For more information on mosquito-borne illnesses, visit the MSDH website at HealthyMS.com/westnile and HealthyMs.com/zika.
Follow MSDH by e-mail and social media at HealthyMS.com/connect.
---
Press Contact: MSDH Office of Communications, (601) 576-7667
Note to media: After hours or during emergencies, call 1-866-HLTHY4U (1-866-458-4948)