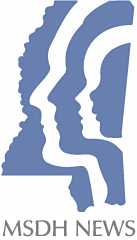 Jackson, Miss.Today during its quarterly meeting, the Mississippi State Board of Health elected new leadership in the positions of chairman and vice-chairman.
Ed "Tad" Dalton Barham, M.D., F.A.C.R., was elected Board chairman. A Clinton resident, Dr. Barham has been a Board member since 2012 and currently serves as the Chief of Radiology and Director of Breast Imaging at Woman's Hospital in Flowood.
"It has been a great privilege for me to be a member of the State Board of Health," said Dr. Barham. "I am grateful for the opportunity to serve in a leadership position, and look forward to working with my colleagues to help promote public health in Mississippi."
Thad Fulton Waites, M.D., was elected vice-chairman of the Board. Dr. Waites is a Hattiesburg physician who currently practices cardiology at Hattiesburg Clinic and Forrest General Hospital. He is serving his second term with the Board, being first appointed in 2010.
The new Board leaders replace Lucius M. Lampton, M.D., F.A.A.F.P., who has served as chairman since 2007, and J. Edward Hill, M.D., F.A.A.F.P., who has served as vice-chairman since 2011.
"During the last decade, the Mississippi State Department of Health has emerged again as a national leader in public health. It has been an honor to serve my state in this capacity and a joy to work with the excellent staff at the department over the years," said Lampton.
"I am enthusiastic that our new election rules including term limitations for board leadership will encourage broader participation by all members in decision making," Lampton added.
The Board of Health is composed of 11 members appointed for staggered terms by the Governor. Their duties include providing policy direction for the agency, appointing a State Health Officer, and approving the State Health Plan and all agency rules and regulations.
Follow MSDH by e-mail and social media at HealthyMS.com/connect.
---
Press Contact: MSDH Office of Communications, (601) 576-7667
Note to media: After hours or during emergencies, call 1-866-HLTHY4U (1-866-458-4948)